Antigua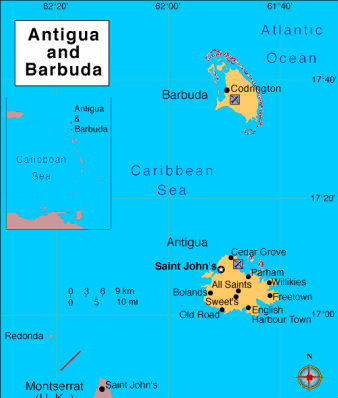 Antigua is located in the Caribbean region. It is an island in the Leeward Islands of the West Indies. It is the main island of Antigua and Barbuda.
The island of Antigua was explored by Christopher Columbus in
1493
and named after the Church of Santa Maria de la Antigua in Seville. Antigua was colonized by Britain in 1632; Barbuda was first colonized in 1678. Antigua and Barbuda joined the West Indies Federation in 1958. O
n November 1, 1981 Antigua became an independent state within the Commonwealth.
The island of Antigua is relatively small only 108.5 square miles with a population of 90,000 people and has
365
beaches
on Antigua, one for each day of the year. The great majority of the beaches rest inside the calm, protected waters of the island's Caribbean side.
---
---
Antigua is home to many attractions: Swimming with the stingrays at Stingray City, snorkelling and scuba diving. Want to take a break away from the beautiful beaches? Try Antigua Rain Forest Zip-line, Shirley Heights, Devil's Bridge, Fort Berkeley and Nelson's Dockyard National Park, just to name a few!

---

Annual Seafood Festival:
Seafood lovers will not want to miss this annual feast of freshly caught fish and crustaceans at Urlings Wharf each April. This festival, first founded to promote Antigua and Barbuda's fishermen and vendors, has grown into a much larger event complete with craft booths and live musical performances. Children have their own fishing competition and bouncy castle, while visitors of all ages can take relaxing boat rides around Carlisle Bay or watch the exciting mango-eating competition.

Antigua Sailing Week:
This annual race off Antigua's southern coast attracts more than 200 vessels. Antigua Sailing Week, held between late April and early May, is one of the world's most prestigious sailing regattas and a week-long celebration filled with live music and lively stories shared each afternoon at happy hour at the Nelson's Dockyard.

Antigua Carnival:
Carnival, like its counterparts throughout the Caribbean, is a 10-day July celebration filled with vibrant costumes, parades, calypso music, and plenty of partying.