Weddings in Barbados

Barbados is a medium-sized island that is 21 miles long by 14 miles wide, located in the far South-Eastern corner of the Caribbean; it's semi-tropical with an average temp of 30ºC with only nominal seasonal variations. Prevailing trade winds blow steadily so that although it is bright and sunny, it isn't unbearably hot. Rain usually comes in short showers and is usually followed quickly by sunny skies and within minutes everything will be dry. The name Barbados is derived from the Portuguese Los Babados and means "the bearded ones" which most believe to be a reference to the many bearded fig trees which once covered the island.

Barbados is known for its contrasting landscapes. With its eastern side exposed to the Atlantic, dramatic views and scenery abound. To the west, however, on the mellow Caribbean side, are miles and miles of white, coral-sand beaches, and it is here that many of the island's hotels are found.

Live your dream wedding in beautiful Barbados whether it's set amidst the tropical flora and fauna of our island paradise or be a traditional marriage in one of our many historic churches. Barbados offers a wide range of exotic and traditional options for you to choose from for your wedding location including Churches, Gardens, Catamaran cruises, underwater weddings, Great Houses and Villas.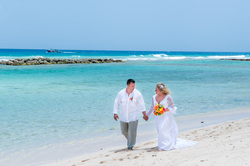 Beach Weddings
Barbados is famed for its miles of beautiful beaches many Beach weddings in Barbados take place at Foul Bay and Bottom Bay. Ceremonies on the beach usually take place under an arch of flowers, with your wedding guests looking on; sometimes a marquee can also be erected on the beach. For the wedding reception after the marriage ceremony has taken place it is usual to head off to your hotel, villa or restaurant with your guests to celebrate. Popular Beaches are
Fowl Bay
, Bottom Bay, Browns Beach, Carlisle Bay and Enterprise Cliff.
---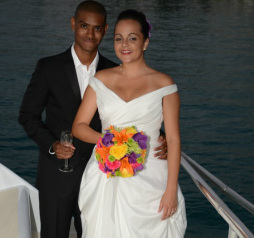 Catamaran Wedding
With the clear and tranquil Caribbean seas surrounding this island you can choose to have truly unique weddings aboard a private catamaran. Of all the wedding venues in Barbados, a wedding floating in the ocean is definitely one to write home about!!! This Barbados wedding venue will generally provide you with 2 options for your ceremony, a morning ceremony or afternoon ceremony. In addition to your wedding ceremony, your catamaran cruise will typically include serving you and your guests with drinks and canapés and lounging about on the sunny deck.
---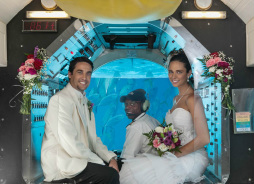 Submarine Wedding
The
Atlantis Submarine
is one of the most well renowned tourist attractions for visitors to Barbados. The submarine, which takes passengers to see the coral reef just off the west coast is also one of the most exciting and original wedding venues in Barbados. Setting off from Bridgetown, you will be taken by boat to board the submarine where the celebrations will begin for your big day. You and your guests will enjoy the spectacular views of the marine life and coral whilst your ceremony takes place.
Due to the size of the submarine this Barbados wedding location is ideal for a

maximum of 40 guests.
---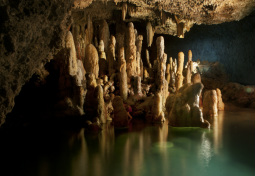 Harrison's Cave
Another very unique choice of wedding venues in Barbados is in the famous
Harrison's Cave
. This limestone coral cave is a spectacular network of underground caverns and pools, and is known as one of the seven wonders of Barbados.
Choosing to wed in this cave gives you a beautiful backdrop of stalagmites and stalactites as well as underground waterfalls.
---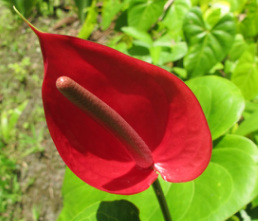 Flower Forest
For a nature wedding in a tropical garden there is
Flower Forest
where you can get married whilst surrounded by 50 acres of exotic blooms. No matter what your idea of a dream wedding might be, you are sure to be able to make it happen in Barbados. Other choices are Petrea Gardens,
Pollards Mill
and
Graeme Hall
Nature Sanctuary.
---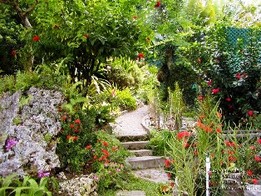 Andromeda Gardens
Andromeda Gardens
is a beautiful six acre botanical garden paradise overlooking the east coast of Barbados. The Gardens which originally started as a private plant collection in 1954 and now boasts over six hundred different species of plants from varying tropical environments. The beautiful exotic garden divided by streams and waterfalls is the perfect backdrop for your dream wedding.
---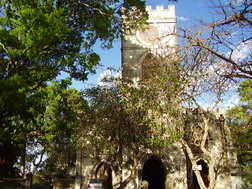 Traditional Weddings
There are some 70 religions represented on the island, and most of them are happy to welcome visitors who would like to marry provided you comply with certain religious wedding requirements first. The most popular churches to hosts visitor weddings are the many Anglican and Roman Catholic churches throughout the island. Popular choices are
St Dominics
,
St Patricks
,
St Francis
, St James.
*Civil ceremonies are conducted by a magistrate from the district court of the parish where your wedding venue is located.
---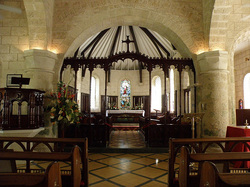 St. James Anglican Church
St James Anglican Church
is a common choice amongst visitors this is the oldest Anglican Church on the island with its beautiful coral stone architecture. It is also perfectly located in the city of Holetown near to most of the hotels along the west coast.
---