Grenada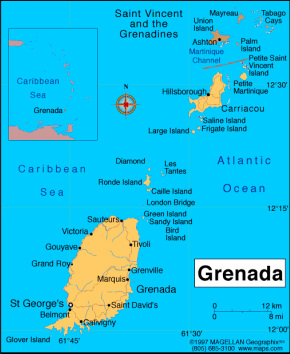 Grenada, otherwise known as the spice isle, consists of three islands (Grenada, Carriacou, and Petit Martinique) and is located in the Eastern Caribbean at the southern extremity of the Windward Islands. Before the arrival of the Europeans Grenada was inhabited by Caribs who had driven out the Arawaks and Christopher Columbus discovered the island in 1498. Grenada gained its independence from the British in 1974.

Grenada is the largest of the three islands with a width of 12 miles and length of 21 miles, total area of 133 square miles. The island is composed of 5 volcanic centres, the youngest and the highest point being Mount Saint Catherine at 2747 ft. The population of the island is approximately 93,000 and the year round temperature is a very pleasant 24 to 30 degrees Celsius with steady and cooling trade-winds.


---
---
Grenada is home to many beautiful and exciting attractions, Grand Anse Beach which sits on 2 miles of incredible white sand in a sheltered bay has become a favourite to both visitors and locals alike.

This little island is rich in history with several attractions showcasing this history: Fort Matthew, Grenada National Museum, Fort George and River Antoine Rum Distillery are just a few examples of these historic sites.

For the nature lovers, Annandale Waterfalls, Grand Etang National Park & Forest Reserve and of course for those who enjoy snorkeling and scuba diving Grenada Underwater Sculptures is a must see!

Carriacou Regatta
One of the most diverse regatta in the Caribbean at end July beginning of August, this event attracts competitors from all around the world with work boats, racing boats, sailing boats and yachts.

Rainbow City Festival
This event includes local arts, crafts, food, music and tours of scenic sites in the town of Grenville from the first week of August.

Grenada Carnival
Like the other islands, Grenada also has their carnival at the beginning of August, while on a smaller scale this event comes to a close with two days of partying. On the Monday there is J'Ouvert with party goers in t-shirt bands with paint and dancing through the streets until the early morning hours on the Tuesday. The final parade held on Tuesday consists of masqueraders parading in full vibrant costumes.