St Lucia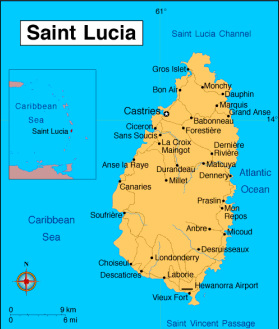 St Lucia is located in the Eastern Caribbean Sea and the boundary of the Atlantic Ocean and is part of the Lesser Antilles.The French were the island's first European settlers. They signed a treaty with the native Carib Indians in 1660. England took control of the island from 1663 to 1667. From 1958 to 1962, the island was a member of the Federation of The West Indies. On 22 February 1979, Saint Lucia became an independent state of the Commonwealth of Nations association with the United Kingdom.
​
St. Lucia covers a land area of 238.23 square miles and has a population of approximately 183,000 people. The island is volcanic and has two distinctive mountains on its West Coast called the Pitons. It's known for its beaches and reef-diving sites, as well as its rain forested interior with waterfalls such as at Toraille. It's home to quiet volcanic beaches and fishing villages as well as luxurious resorts.
---
---
The breathtaking island of St. Lucia has so much to offer, from beautiful beaches and marine life which can be seen while snorkeling and scuba diving at Anse Chastanet Marine National Park.


There are amazing nature tours to St. Lucia Botanical Gardens, hiking up the Pitons and experiencing the Caribbean's only drive up volcano where you can walk through the crater past pools and hot springs and take a bath in the warm sulphuric pools.


For those interested in the historic sites on the island, Pigeon Island National Park and Morne Fortune are a good place to start.

Throughout the year St. Lucia has several major events which attracts visitors regionally and internationally, some of these events include:

St. Lucia Jazz Festival

A world renowned music festival showcasing the very best in Jazz, Soul, R&B, Calypso & Reggae. This festival is for two weeks and starts the end of April beginning of May.

International Creole Day

Also known as Jounen Kweyol Day is celebrated in October and features a huge selection of various creole dishes as well as live creole style musical performances. This even is an excellent way to immerse yourself in the local culture.

St. Lucia Bill Fish Tournament

At the end of October

in

Rodney

Bay

Marina

, is a

week-long

event

that attracts

anglers

from around the world

.

The event

is a seafood

-lovers

dream

with lively

entertainment

and a lot of

dishes

of

freshly caught

Fish.