Tobago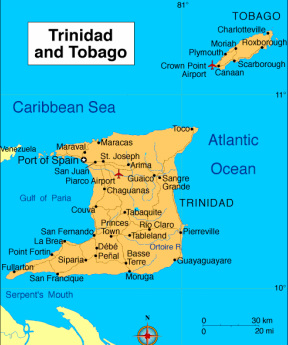 Tobago is the smaller of the two islands that make up The Republic of Trinidad and Tobago. It is located in the southern Caribbean, north east of the island of Trinidad. Columbus first sighted Tobago in 1498. Subsequently, several powers fought over possession of the island. Over the years, the Dutch, English, Spanish, Swedish and French transformed Tobago into a battle zone and the island changed hands 33 times before the Treaty of Paris ceded it to the British in 1814. Trinidad and Tobago gained its independence from Great Britain on August 31st, 1962.

Tobago is 115 square miles in area and has a population of approximately 62,000. The island is primarily hilly and of volcanic origin. The southwest of the island is flat and consists mostly of coralline limestone. The highest point on the island is 1804 ft and is called Pigeon Peak.


This peaceful island is for those who want to sit back relax and enjoy the slow pace of life!


---
---
As small as this beautiful island is, there is no shortage of things to see in Tobago.

For the diving and snorkeling enthusiasts there is Buccoo Reef & Nylon Falls rated as the third most spectacular reef in the world by French oceanographer and explorer Jaques Cousteau, located a short distance away from Pigeon Point Beach which is often considered Tobago's most beautiful beach.

Also on the list for nature lovers is Argyle Falls, Tobago's highest water fall. If you are interested in the history of the island, check out Fort King George, Tobago's best preserved historic site showing the early prison, bell tank, several cannons,barracks and officers' mess all located in well manicured groups with magnificent views.

Tobago Jazz Experience
The Sounds of jazz and world music come to Tobago every April during the main island festival of the Tobago Jazz Experience. Music lovers gather on the quaint island of Tobago to enjoy 11 days of jazz, world beat, salsa,Latin, R&B, Soca, reggae and many other forms of contemporary music.

Tobago Culinary Festival
Held every June in the beautiful and relaxed environment of Pigeon Point, this free international culinary event allows you to sample dishes from around the world.

Tobago Underwater Carnival
Tobago offers world-class diving sites, including the famous London Bridge and Japanese Gardens. It is held in July every year and presents divers with a chance to see all the treasures hidden beneath the surface in the waters that surround Tobago. Those who prefer catching fish to swimming alongside them can enjoy spear fishing, fly-fishing, big-game tournaments and deep-sea charters.